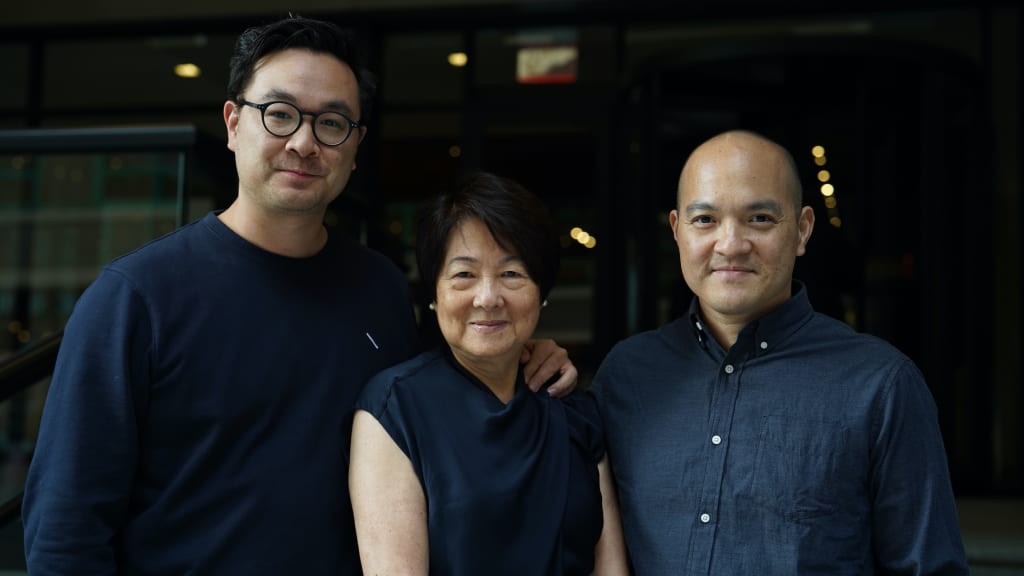 Today, Lo & Fils is a popular brand of bags and accessories designed to make travel easier and more enjoyable. The brand is run by two of its co-founders, Jan and Derek Lo. But before the company was run by the sons, it began as a solution to a problem faced by the brand's third co-founder, and still active president: their mother, Helen Lo. As a frequent traveler, Helen had been frustrated by the lack of adaptable luggage options. His choices were limited to fashion or function, one to the detriment of the other. Rather than compromise, she worked with Jan and Derek to design the options she wanted. In 2010, at age 65, Helen combined her passion for travel and her knack for detail to reinvent what luggage could be for travelers like her. Here, the first-time entrepreneur discusses adding more dynamic quality to a once stagnant category, doing things the hard way to make sure things are done the right way, and building a brand heritage rooted in its three Ps: profit, people and the planet.
When Lo & Sons was launched, the luggage category was already saturated with options. The world didn't seem to need another brand of luggage. Why did you create this one?
The idea for the brand was born when I spent a lot of time traveling with my [late] husband. I was retired at the time and he traveled a lot for his job. The biggest problem with traveling with him was that he refused to check baggage. He would go on a trip for two or three weeks at a time with only one piece of hand luggage. As you can imagine, making such a long trip with just a carry-on was quite difficult for a woman, but I would always find a way to do it. At the same time, I had neck and back problems, so traveling light had become a priority for me for multiple reasons.
The TSA restricts everyone to one carry-on baggage and one "companion bag". If you want to carry a small handbag, this is considered a companion bag. For me that was a problem – I needed more than that. So basically I started with this specific question: "Where do you find a pet bag that looks like a handbag but works like luggage?" Despite all of my travels, despite my research in department stores everywhere, I couldn't find the bag I needed.
Go to the luggage section of a large store and you will understand what I mean. You will find all of those companion bags that work well but don't look good. Or maybe you will come across bags that are big but when you open them there is only a big hole with no pockets or a way to organize anything. So what I saw on the market just wasn't enough for what I needed. I needed a lightweight, purse-like, and organization-friendly companion bag, but couldn't find anything like it.
I told Jan and Derek [my sons] about my problem, and they said, "Well you know what you want. Why don't you make your own bag? And that's how it started.
Beyond creating a great bag, we wanted to make travel and baggage handling less complicated. We wanted to make it easier and less stressful. We envisioned a dynamic bag that you could take straight to a meeting after hopping out of a plane, rather than having to detour through your hotel room to change bags.
How did you design this first bag and establish relationships with the industry? What was the learning process?
When we were making the first prototype, we spent about four months of the first year at the factory. I wanted to be there in the field so that I could test the bag and identify with it. I wanted to know firsthand that it was working for me, and if not, explain in person what needed to change.
One advantage we had in the beginning was that the factory owners we chose to work with could design, manufacture and sell bags to wholesalers. They could do all of that, which allowed us to focus on the product and the brand. Another plus was that the factory designer was interested in us – especially Jan and Derek – because he was impressed with how hard they worked.
We sat in the factory working on the initial design every day for the first three weeks, watching them make changes, reviewing the prototypes, and then making other changes. The process was demanding, but it was actually quite quick as we weren't waiting weeks to ship prototypes back and forth.
Shortly after, we would take the prototype bags to Hong Kong and ask relatives – like my nieces, who are professionals at the company – to test them out and tell us what they think. We sent prototypes to friends of Jan and Derek in Chicago and Beijing. With every round of comments people would say things like "My computer wouldn't fit" or "The straps are too wide," so we kept repeating the design. We just kept trying to learn and think about how the bag would be used, not just how it looked.
The process of designing our bags takes a long time – we try to do everything right. We learn how people use their bags, we focus on all the little details and fine-tune everything until we deliver exactly what people are looking for. There is a real need for bags like these around the world, and no one else makes them.
Lo & Sons was launched during a difficult time, shortly after the Great Recession. What obstacles did you encounter at the start and how did you overcome them?
How you choose to view the world matters. We saw obstacles as opportunities.
Were we outsiders from the industry? Yes. And that meant we weren't stuck in the old ways of doing things. We learned early on that there were certain standards that were not ideal from a user perspective. For example, zippers tended to be placed on bags so that they were easy to open when placed down. But it was ignored that many carried smaller bags over their shoulder – so there might be a better setup when a person needed quick access to their passport to go through security without having to. drop off his bag. At first we were told that other brands don't do it that way. Well, we weren't making our bags to meet an existing standard. We strived to set a new standard, which added fashionable functionality and made the traveler the priority. In this way, being industry outsiders has benefited us.
Have we missed the financial resources of the competitors? Yes. And in the aftermath of the Great Recession, the industry had to compromise to generate income of all kinds and keep their lights on. Factories and suppliers who probably wouldn't have spoken to us in better times – since we were novices doing more original work, less mass – took a chance on us. Warehouses that probably would not have supported our small batch inventory unless we signed longer term leases had room for our products on short term agreements. In some ways, the economy has worked for us.
If you're waiting for the perfect time to launch, you'll find plenty of reasons to delay. If you are determined to succeed, you won't let obstacles slow you down.
In the future, what is the long-term ambition of your brand? What brand heritage are you working with your sons?
I would love to see us build a legacy of a travel lifestyle where we make it easier for people to get to where they want to be and where people think of us when they have meaningful travel experiences. I don't want people to think of us just as a trendy brand or an innovative brand because we are both and more.
We have big ambitions. Being at the heart of people's travel experiences goes beyond our current product line. We want to create other products that blend into the lifestyle of travelers and make it easier for people to explore. I also see that we are a global brand, so when people all over the world think of going somewhere they think of Lo & Sons.
Regardless of our size, I will always focus on the three Ps: profit, people and the planet. To be clear, we are not looking to make profit for profit. Profit serves everything else. We believe the purpose of profit is to ensure that the people and communities we work with can live well. This is why, for example, we recently joined forces with the Dinner Heart to provide meals for East Asian seniors in New York City, where our head office is located. In addition, we are committed to using the profits to improve our planet by investing in superior quality environmentally friendly materials and by committing to a circular design mission. That is to say, we are excited to start recycling as much of our products as possible so that very little is wasted. Profits allow us to make the best products for our customers. Profits help us keep each of these promises and give us the opportunity to focus on the long term.
What advice would you give to entrepreneurs who want to pursue their own long-term ambitions and build their own legacy?
My advice is to be persistent and courageous. Be prepared to work really hard and do whatever it takes. Recognize that no aspect of the job is below you. Don't start a business if you think you shouldn't have to do a certain task, or that you can only work five hours a day. You have to be prepared to devote the time to it. Be brave enough to make mistakes, but be quick to learn from them. Finally, be humble. Learn from others. Learn from who you can and adapt quickly.